Rural firms can find it hard to attract skilled workers, so one in the Swabian Alps set up its own primary school.
The problem with Albstadt becomes clear once you try to describe where it is: 70km south of Stuttgart in south-west Germany is true enough but gives a misleading impression. Because whether you take the train or drive, it will take you an hour and a half to get from Stuttgart to the Swabian Alps. Or two hours on a bad day. The meadows, orchards and hills may be pretty and the houses with their pointed gables may look idyllic, but fewer and fewer people want to live there. The population has been in decline since the 1970s and the medium-sized family firm Groz-Beckert is feeling the impact. The company has been manufacturing sewing needles in Albstadt since 1852. Today, it has an annual turnover of €665m (£609m) and is the global market leader in needles for industrial sewing, knitting, weaving, felting, carding and tufting.
"The infrastructure here doesn't exactly give us an advantage," says Thomas Lindner. He is the chairman of Groz-Beckert's executive board and a descendant of the founding Beckert family. It's his job to attract as many of the region's skilled workers to Groz-Beckert as possible. And that is a tall order, because he has to bring in specialists from far and wide, including metallurgists, who are much in demand. He long ago exhausted all the obvious methods, such as paying good wages and sharing profits. Harder to solve is the much discussed problem of reconciling work and family. "Flexible working hours are important for families, but much harder for a manufacturer to implement than firms that only have office workers," says Lindner.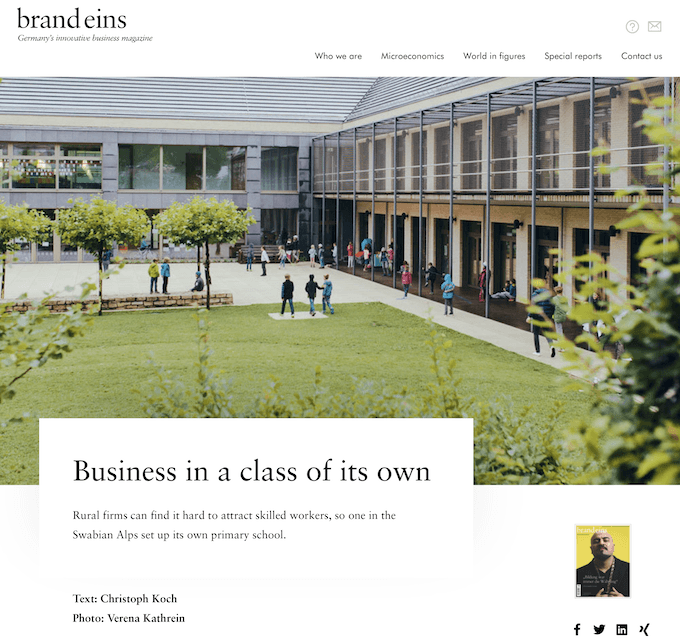 hen the training manager, Nicolai Wiedmann, organised childcare for the school holidays one summer. It was a huge success and gave Lindner an idea. Wiedmann had rented an empty primary school. So what if Groz-Beckert were to help out with looking after children, not just in the holidays but all year round? Plenty of firms offer daycare facilities; sometimes they operate them themselves, but more often they buy into them and book a certain number of places for their employees. But that was not good enough for Groz-Beckert. In September 2013 the firm opened not just a daycare centre but the first corporate primary school in Germany.
Open for all
The company has spent €17.5m (£16m) on the building, which is on one side of the firm's main premises. At first, there was also an annual seven-digit figure for operating costs but, after the minimum three years, the primary school was officially approved and since 2016 it has been receiving a grant of €3,600 a year per pupil. That means Groz-Beckert now only has to contribute a six-figure sum. Parents pay fees on a sliding scale according to their income.
Compared with other private schools, the fees are very reasonable. A family with a gross annual income of €30,000 pays €75 a month, rising to €266 for a family on €100,000. "The money is usually not the problem as long as people are convinced by what is on offer," says Wiedmann, managing director of the Groz-Beckert subsidiary, Malesfelsen daycare and primary school.
The school is open to all families in the district, not just Groz-Beckert employees. That was one of the conditions for receiving state support. Of about 70 children in the four primary school classes only 20 are children of Groz-Beckert staff, and the picture is similar in the kindergarten.
Read more at international.brandeins.de …